SilverLink Senior Services Providing Guidance, and Home Health Care With Compassion
Our team of advisors help navigate the entire Continuum of Care with expert advice and services on In-Home Care, Independent Living, Assisted Living, and Memory Care. We help coordinate the care your loved ones need using our combined 30+ years of industry experience.
SilverLink was founded in September 2017 by Michael, our owner. He managed assisted living communities in the Greater Jacksonville area and always enjoyed working with seniors. As he became more involved in the property management and operations side of the industry he found himself getting further and further away from being directly involved with seniors. He also realized that there was a multitude of seniors that the communities were not helping because of the high cost of care.
The SilverLink mission is to assist local seniors and their families by providing them with the knowledge, services, and resources so they can make informed decisions about care options and find ways to make those options affordable.
Our Greatest Asset Is Our Team
Our Employees
At SilverLink, our employees are the largest and most important assets we have, which is why we value our employees as one of our agency's four key stakeholders (Customers, Company, Employees & Community). The success of our Agency truly does rely on the strength of the people we employ.
Work-Life Balance
We understand that our employees have lives outside of our four walls and a healthy work-life balance is crucial. SilverLink understands and values the importance of family. Our employees, in turn, understand the value and importance of the services we provide to the families we serve, delivering the best in the industry.
Personal & Professional Growth
SilverLink expands the notion of "training" beyond what is necessary to perform the job. We invest in our staff, we want to allow our employees the opportunity to grow- not only professionally, but individually as well.
Our Philosophy Impacts The Families We Serve
Our commitment to our staff has proven to be a wise investment. SilverLink has low employee turnover, considerable employee longevity, and a deep level of expertise at all levels, allowing us to provide the highest quality of services to the families we serve.
Continuity of

Care

is Critical
Continuity of Care is the optimal model for healthcare. It means that the care provided for the patient is coordinated across all care settings. Doctors, Nurses, Social Workers, Care Givers, Senior Advisors, and Family Mentors, all working together to optimize the patients Quality of Life.
SilverLink was started in 2017 by Michael Saffy. He saw the need for local families to get assistance from someone with expertise in the Senior Care Industry. After Managing Assisted Living Communities he started SilverLink with the goal to help a broader range of seniors and their families.

We have helped hundreds of families navigate the often difficult choices that come with choosing next steps for a loved one's care. We have helped families from all types of backgrounds, economic spheres, and with a variety of care needs and are proud that we maintain a very high satisfaction rate.

We continually create and build upon relationships with our Referral Partners. Many of the families and clients we help are referred to us by a healthcare professional via word of mouth or by happy previous clients. We deeply value that trust and strive to make it a seamless process for our Partners to refer us to families in need. We continue to help every client and family our Referral Partners entrust us with without regard for budget constraints or acuity level.

At SilverLink we believe that Care comes first. We drive this idea by offering competitive pay to our caregivers and a unique bonus structure that incentivizes them based on client satisfaction, length of service, and continued care. We want to build relationships with our caregivers and have them pass that ideal along to our clients.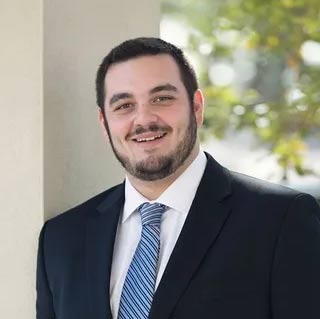 Owner & President
Michael is the owner of Silverlink. Having been lucky enough to know all his grandparents and two of his great-grandparents, he realized the importance of caring for our seniors from an early age. After graduating from the University of North Florida with a degree in International Business, Michael began working at a local Assisted Living Community in Jacksonville Beach. Utilizing his experience in the Assisted Living Property Management Industry he helped create a business that could reach local seniors and assist them in a wide scope. Assisted Living is still not affordable for many seniors on a fixed income, Michael specializes in finding ways to afford the care our loved ones deserve via benefit programs and financing opportunities.