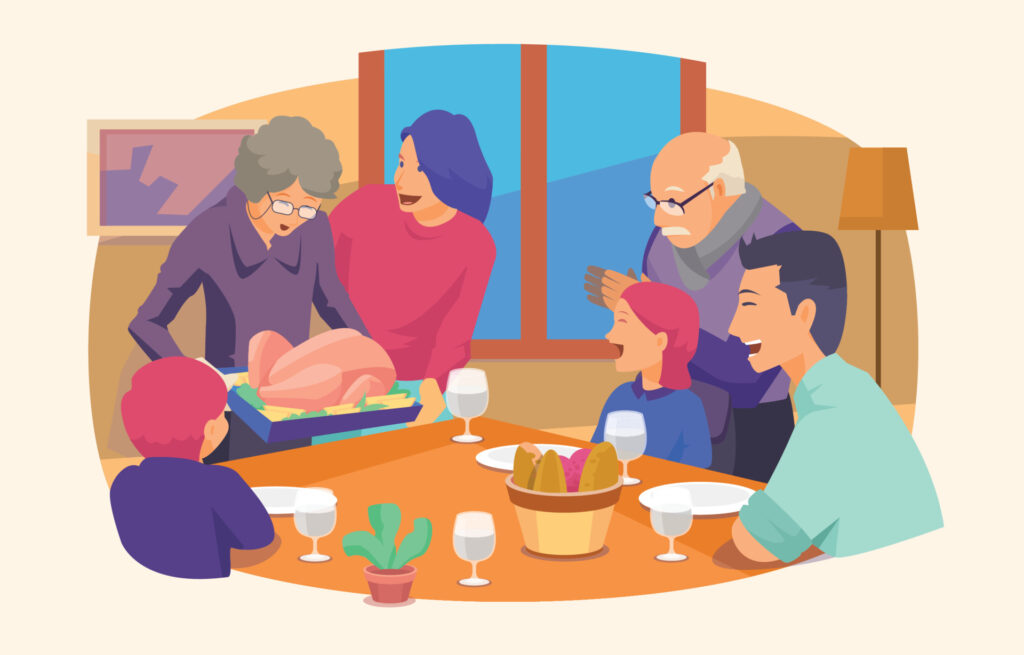 While many of us are away from our family members most of the year, the holidays is that one time we all come together again. This makes it the perfect opportunity to check up on each other and spend precious time amongst those closest to us. It is also a key time to make sure everyone is happy and healthy. Unfortunately, sometimes there comes a time older adults need professional care and additional assistance. Many family members are filled with stress and confusion, not knowing when the right time is. While you are home for the holidays, consider watching out for these signs as you spend time with your family.
Difficulty with Daily Activities
Daily activities such as eating, bathing, and even walking are essential to every person's standard of living. Though as we age these once simple tasks can become difficult and frustrating. If you notice your loved one having increased hardships with everyday tasks, it is probably time to start looking for some sort of aid.
Assisted Living Facilities take care of tasks such as cooking, laundry, cleaning, and all medical care. By getting help with the simple physical tasks, they are free to enjoy life to the fullest.
High Stress Levels
Stress is a silent killer. The toll that being overly stressed can put on a body is one many of us know far too well. Though, the demographic it can affect the hardest is the older generations. Being in a caring environment can greatly reduce the amount of stressors for a resident. This is due to there being a maintenance-free environment, filling a loved ones time with tasks they enjoy doing rather than chores they have to do and may struggle with.
If your family member is showing increased signs of stress it may be time to start looking for possible help. Signs of stress can be mood swings, low energy, insomnia, constant worrying, changes in appetite, etc.
Isolation
Isolation for our older family members is a serious problem today, especially since the pandemic is causing us to stay inside more often. Isolation loneliness can lead to medical issues. The CDC states that seniors with isolated loneliness are: 50% more likely to develop Dementia, 29% more likely to develop Heart Disease, 32% increased risk of Heart Attacks, and many more adverse incidents that lead to hospitalizations.
Assisted living facilities, unlike what many believe, is an environment where residents are encouraged to spend as much time out of their room as possible. To promote this behavior, a lot of assisted living facilities will hold social gatherings and events for everyone to attend. It is a great way to make friends, and fill one's day with purpose. Many communities have restaurant style dining, full nursing staff available, and activities customized to you. It is like a cruise ship that doesn't go anywhere.
Poor/Lacking Nutrition
As we age, activities like cooking can become a mountain rather than a molehill. This can cause a lot of elderly citizens to suffer from malnutrition. Poor diet is especially risky for older adults due to the effects that can take place. Some signs of malnutrition are poor wound healing, weakened immune system, and muscle weakness that can result in falls. If a loved one looks like they are not eating well and suffering due to this, it is time to look for help.
Another factor that these communities help with is not only the quality of nutrition but also the cost. Many seniors that cannot leave their home to grocery shop will use apps to receive takeout or groceries. The fees for convenience can be an upward cost of 30% – 40% of the original bill.
Assisted living facilities and even Home care can be a great option. This way, proper meals can be prepared that fit the dietary needs of individuals.Eating right can go a very long way in keeping a body and mind healthy.
Forgetting Care Routines
Forgetfulness is something all of us experience. Though, there are certain duties that can be dangerous if forgotten, like taking medicine. If your family member is consistently forgetting important care needs, this is a good sign to look for help. Assisted Living Facilities have a schedule for their resident's care and make sure everyone's needs are met. Though, it not only provides comfort to seniors, but their families as well. It can be worrisome, to say the least, when a family member is putting their life in danger due to forgetting medication. Assisted Living Facilities help more structure be introduced, putting everyone's mind at ease.
Recent Life-changing Events
Age can make the body more susceptible to a lot of dangers. One of the most common is falling and having a lack of balance. While falling when you are younger isn't that big of a deal, it can seriously harm someone who is older. Depending on the fall, it can lead to broken bones, heavy bruising, and even make it so the person can't get up. Another serious concern is if your loved one has developed a chronic illness. Taking care of yourself when you have a serious illness is difficult for anyone at any age and sometimes you need extra assistance.
Assisted Living facilities can help reduce the risk of falling as well as having trained staff to consistently check to make sure your loved ones are doing ok. Nursing staff can make it so the stress and concern of many debilitating events caused by age are reduced. They are on site, and have the ability to help in a much more effective way than most.
Physician Recommendation
Has a physician recommended that your family consider moving a loved one into assisted living? While it is easy to ignore, it could be more beneficial to hear them out. Physicians know the body much better than regular civilians. It is worth it to be open to the idea, and hear why the doctors recommend this step.
Causing Family Distress
Many families are put into a sense of distress when it comes to moving a loved one into an assisted living facility. More commonly, they try to take care of their older family members themselves. While this is commendable, it is not an easy task. Depending on the level of care, it can cause an alarming amount of time and stress which can lead to a slew of other issues.
Unfortunately, sometimes when family members lean too much on one another it can lead to a degradation of the relationship between them. Assisted Living Facilities and Home care options try to stop that from happening. That way, everyone can get the help they need without the added stress of doing it all on your own.